Sequence assembly¶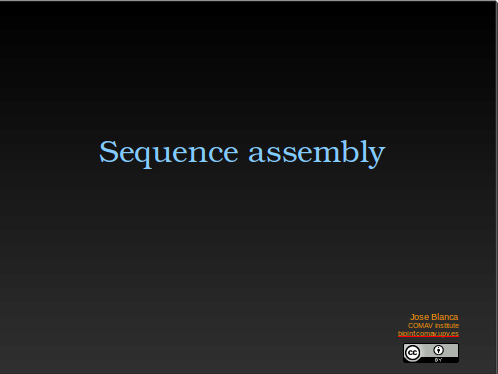 Some nice reviews about the sequence assembly are: Next-Generation Sequence Assembly: Four Stages of Data Processing and Computational Challenges, Assembly algorithms for next-generation sequencing data, Sense from sequence reads: methods for alignment and assembly, A Practical Comparison of De Novo Genome Assembly Software Tools for Next-Generation Sequencing Technologies, and Comparison of the two major classes of assembly algorithms: overlap–layout–consensus and de-bruijn-graph. A review about the new low memory genome assemblers: Comparing Memory-Efficient Genome Assemblers on Stand-Alone and Cloud Infrastructures. A review about the long reads and about the technologies used to assemble the scaffolds into chromosomes: Third generation sequencing and the future of genomics, and The impact of third generation genomic technologies on plant genome assembly.
Assembly software¶
Some useful assembly software:
In the seqanswer wiki there is a more comprehensive list with assembly software.
Read cleaning¶
Having reads of good quality without vector, adaptors, contaminants or chimeras in them is a very important requirement a good assembly. In the CABOG assembler wiki there is a set of recommendations regarding the read pre-processing recommended for different technologies before doing an assembly.
Digital normalization¶
Recently a paper has been submitted describing and implementing a technique to normalize the coverage, and thus reducing the dataset, before doing a de novo assembly. This algorithm tries to remove reads from over abundant transcripts and it fixes sequencing errors taking into account the low abundant k-mers. Since the assembly is a process very difficult to scale efficiently this could be an interesting approach to ease this problem. This normalization could be of special interest for the transcriptomic assembly. In this case the abundance of the ESTs that correspond to different transcripts differ widely and there is a lot of redundant data for the more expressed transcripts. Given that the requirements of the assembly grow rapidly with the number of reads removing a lot of the redundant reads can simplify the problem a lot.
Some caveats should be considered though. It shouldn't be used with genomic reads because in this case the highly abundant reads are usually interpreted by the assemblers as repetitive DNA and the normalization would remove this information. This might not be a concern in samples with no repetitive DNA like genomic samples from prokaryotes. Due to the error correction the use of this technique in reads coming from complex samples should also be considered.
The abstract of the paper states the following. Deep shotgun sequencing and analysis of genomes, transcriptomes, amplified single-cell genomes, and metagenomes enable the sensitive investigation of a wide range of biological phenomena. However, it is increasingly difficult to deal with the volume of data emerging from deep short-read sequencers, in part because of random and systematic sampling variation as well as a high sequencing error rate. These challenges have led to the development of entire new classes of short-read mapping tools, as well as new de novo assemblers. Even newer assembly strategies for dealing with transcriptomes, single-cell genomes, and metagenomes have also emerged. Despite these advances, algorithms and compute capacity continue to be challenged by the continued improvements in sequencing technology throughput. We here describe an approach we term digital normalization, a single-pass computational algorithm that discards redundant data and both sampling variation and the number of errors present in deep sequencing data sets. Digital normalization substantially reduces the size of data sets and accordingly decreases the memory and time requirements for de novo sequence assembly, all without significantly impacting content of the generated contigs. In doing so, it converts high random coverage to low systematic coverage. Digital normalization is an effective and efficient approach to normalizing coverage, removing errors, and reducing data set size for shotgun sequencing data sets. It is particularly useful for reducing the compute requirements for de novo sequence assembly.
The authors report that the process requires low memory, works with a single pass and without reference. They also warn that digital normalization should not be used by default if an assembly with all reads can be accomplished.
Illumina matepair chimeras¶
Unlike the 454 matepair libraries the Illumina libraries do not include a linker to differentiate where the sequence tracks that come from the different genomic segments are joined in the library templates. We can split the forward and reverse segments in the 454 matepairs just looking for the linker, but that is not possible in the Illumina matepairs. In most cases the forward and reverse reads that come from a template will be located in the forward and reverse pairends respectively, but not always. In some cases some reads could be chimeric and could include segments that are non-contigous in the original genome. This chimeras could confuse the assemblers. Due to this reason the SOAPdenovo developers recommend not to use the matepair Illumina libraries to build the contigs and to use them only for the scaffolding step. The CABOG developers look for these chimeras before starting the assembly. For more information about this issue you can read a poster about Illumina mate-pair classification at the CABOG wiki.
We have develop some seq_crumbs modules to fix and filter out these chimeras.